How to make iced buns. How to make amazing iced buns- a real taste of your childhood. These have been my favourite bake yet because they were great fun to make and were so. Iced buns: a retro bake that's just the right mix of sweet and savoury.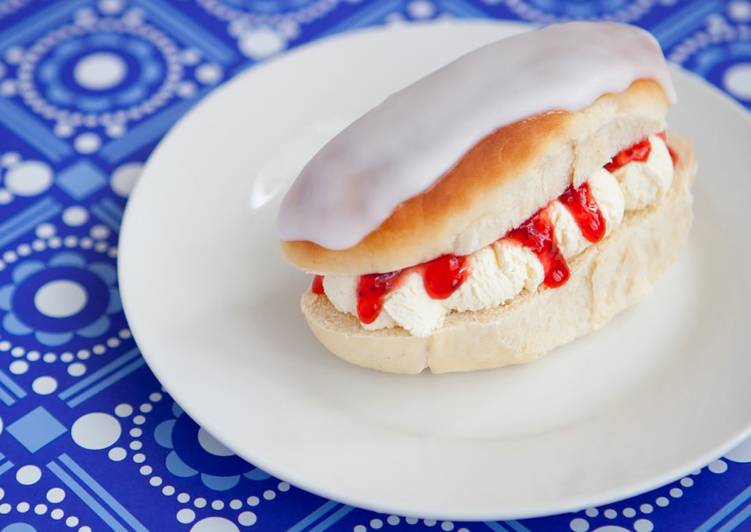 With adult supervision, put the milk and butter in a. A staple of bakeries everywhere, try making your own version of these sweet iced buns and you won't regret it. Although it only takes half an hour to prepare you will need to set aside around an. You can have How to make iced buns using 12 ingredients and 5 steps. Here is how you achieve it.
Ingredients of How to make iced buns
Prepare of For the icing.
It's 240 g of icing sugar pink, yellow and orange food colour gel.
It's of pink for blue or green to make vegetarian).
It's 1 1/2 tbsp of sprinkles.
Prepare of vegetable oil, for greasing.
You need 1 of large egg, lightly beaten.
It's 40 g of unsalted butter, cubed.
Prepare 300 ml of semi-skimmed milk.
Prepare 7 g of sachet dried yeast.
Prepare 50 g of caster sugar.
Prepare 500 g of strong white bread flour, plus extra for dusting.
It's 1 tsp of salt.
Break the buns apart and spoon. Kids will love these old fashioned iced buns, get them to help you decorate them too! To decorate, mix icing sugar with a little water until stiff but. These iced buns can be made in advance and filled when serving, or enjoy as they are.
How to make iced buns step by step
Mix the flour – Mix together the flour, salt, sugar and yeast in a large bowl. Make a well in the centre and set aside. With adult supervision, put the milk and butter in a small pan and warm over a low heat until the butter has just melted and the milk is steaming. Pour into the well in the flour, then add the egg. Stir until a wet dough forms..
Knead the dough -Dust a surface with flour and knead the dough for 10 mins. If it's too sticky, add extra flour, a little at a time (adding up to 50g). When it's ready, it should feel elastic, smooth and no longer sticky. Clean and lightly oil the bowl, then put the dough in. Cover with clingfilm and leave in a warm place to rise for about 1 hr or until doubled in volume. Knock the air out of the dough using your fist, then divide it into 15 pieces (each weighing about 60g). Dust the work surfac.
Bake the buns -Oil a large baking tray and place the dough on it in rows, leaving a 2cm gap between each piece. Lightly oil a piece of clingfilm and lay it over the buns. Allow to rise in a warm place for 30-45 mins until puffed up and just touching. Preheat the oven to gas 6, 200°C, fan 180°C. Bake for 10 mins or until lightly golden (an adult should take things in and out of the oven). When cool enough to handle, move to a wire rack and allow to cool completely. Gently pull the buns apart..
Ice the buns -Divide the icing sugar between 3 wide, lipped bowls, then add 1 tbsp water and a couple of drops of a different food colour gel to each and mix until smooth (a little gel goes a very long way, so just start with small amount). Dip 5 buns into each bowl to just cover the tops with icing, scraping any excess off on the side of the bowl..
Sprinkle – Return to the tray and scatter over the sprinkles. Allow to set for 15 mins or until the icing is just hard. Will keep in an airtight container for up to 2 days but are best eaten the day they are iced..
I remember heading to the deli each week with my well earned paper-round wages and indulging in a sticky-fingered iced bun. Get all nostalgic and learn how to make the fluffiest, lightest, sweetest buns topped with crunchy coconut. Whisk together the icing sugar and a little lemon juice until thickened, then pour all over the cooled buns. Remove the buns from the oven and set aside to cool on a wire rack. An iced bun, iced finger, or Swiss bun is a bread bun with a white or pink icing sugar glaze covering the top.